Cu Chi Tunnels
the largest underground tunnels network in Vietnam

Cu Chi Tunnels is a top must-see place when traveling to Ho Chi Minh City, Vietnam. The tunnels are located in Cu Chi district, outskirts northwest of HCMC, 50-70 km away from the city center. The underground tunnels network stretches from south Vietnamese capital to Cambodian border in Vietnam War in 1960s. The villagers around Cu Chi district supported a substantial Viet Cong (VC) presence. Faced with better-equipped/supplied American and South Vietnamese forces, the VC guerrilla troops dug tens of thousands of tunnels, including an extensive network running underneath the Cu Chi district. At the peak during the Vietnam War, the tunnels network in the Cu Chi district linked VC support bases over a distance of some 250 kilometers, from the outskirts of Saigon all the way to the Cambodian border. Cu Chi also played an important role in Ho Chi Minh Trail for supply transported to the south.
The massive tunnels network is for guerrilla soldiers to house troops, transport communications, and supplies, receive medical treatments, take shelters from aerial bombardment, and mount surprise attacks, after which they could disappear underneath the ground safely. The Cu Chi Tunnels grew to house entire underground villages, in effect, with living quarters, kitchens, ordnance factories, hospitals and bomb shelters.
The Vietnamese government preserved the Cu Chi tunnels and included them in a network of war memorial parks around the country. Currently there're two separate sites opened to public: and . Ben Dinh Tunnels are more popular for international travelers because the crawling tunnels are enlarged to fit even plus-size bodies and it is nearer to Ho Chi Minh City center compared to Ben Duoc Tunnels. Every year, Cu Chi Tunnels attract nearly 2 millions of visitors all over the world.
Tickets information:

Ben Dinh tunnels: VND 110,000 per person
Ben Duoc tunnels: VND 90,000 per person
Shooting range: the balls are sold in sets and each set has about 10 balls of the same type. Here is the price list for different types of bullets
M 16: 35,000 VND / 1 bullet (~ $ 1.6 USD)

AK 47: 40,000 VND / 1 bullet (~ $ 1.8 USD)

M 60: 40,000 VND / 1 bullet (~ $ 1.8 USD)

Garand: 30,000 VND / 1 bullet (~ $ 1.4 USD)

M 30: 30,000 VND / 1 bullet (~ $ 1.4 USD)

CARBIN: 25,000 VND / 1 bullet (~ $ 1.1 USD)
Travel information:
Ben Dinh Tunnels
Address: Ben Dinh Hamlet, Nhuan Duc Commune, Cu Chi District, Ho Chi Minh City
Area: 17 hectares
Visiting duration: 1.5-2 hours
Ben Duoc Tunnels
Address: Phu Hiep Hamlet, Phu My Hung Commune, Cu Chi District, Ho Chi Minh City
Tel: (+84) 83-794-8820
Area: 100 hectares, 12km beyond Ben Dinh Tunnel from HCMC
Visiting duration: 2-2.5 hours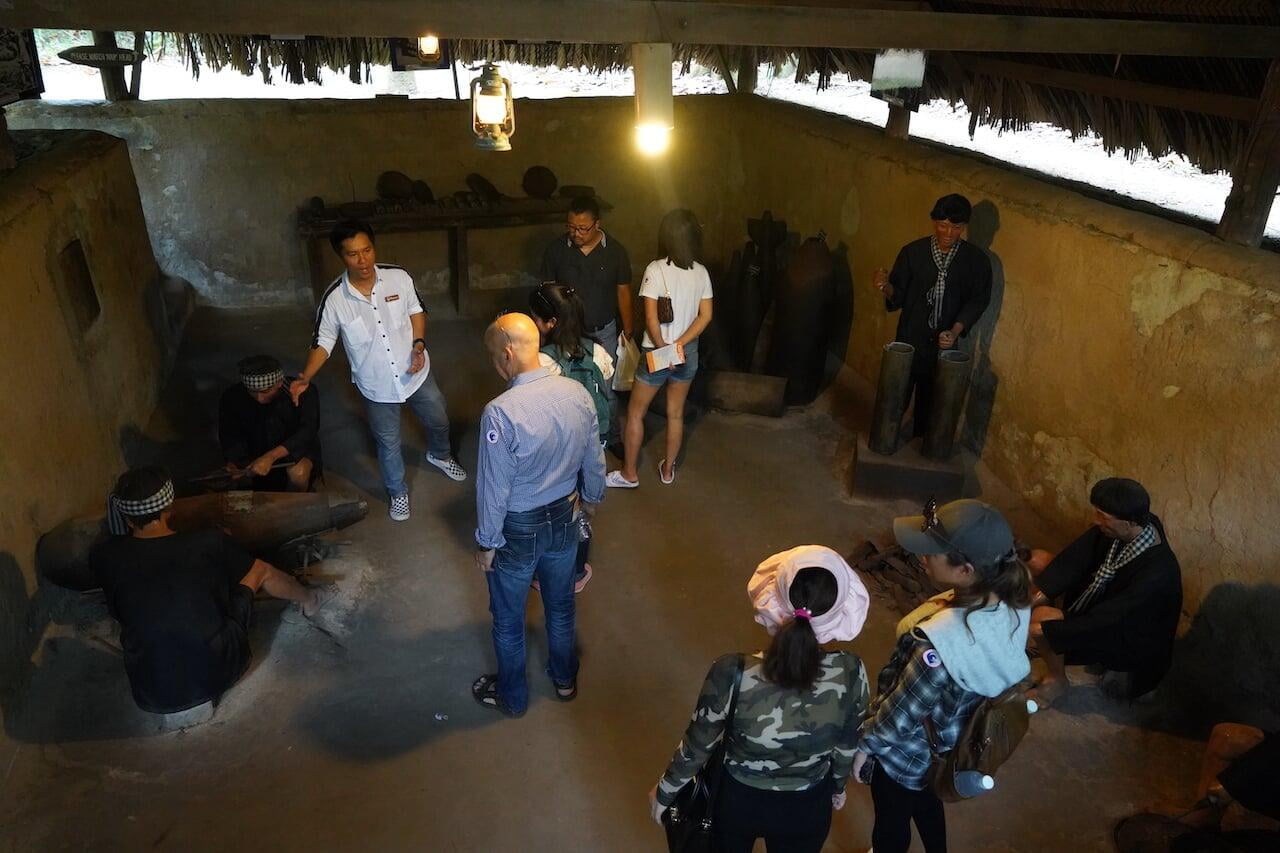 Things to do in Cu Chi Tunnels
Crawling the historical relic tunnels
By crawling the tunnels like rats, you can discover the difficult and risky life of the Vietnamese soldiers and militiaman during Vietnamese War. There're chances to visit the complicated system of combat trenches, vaults for making weapons, and the strategic tunnels.
Attention: Some sections of the tunnels have been widened to allow passage for the fuller frame of Westerners but it's still a dark, sweaty, claustrophobic experience. The activity is not recommended for those who have breathing problems, high blood pressure, or claustrophobia.
Shooting range
Within the Cu Chi Tunnels complex, it will give you the chance to shoot guns, AK47, M16 etc. It's a fairly expensive, as the prices are By-the-Bullet. It can get expensive quickly, especially when you choose to shoot a machine gun. Eardefender is provided, however some people still find his earring is affected for while afterward. This activity is usually at extra cost when choosing a guided tourist bus.
How to get to Cu Chi Tunnels
By taxi:
A taxi is a convenient yet the most expensive option as you can reach the tunnels within 1.5 hours. It will set you back around $70 including the main tunnels and waiting time. You can book a taxi simply by using a mobile app called Grab, which is actually the southeast Asia's Uber. Alternatively, you can book a taxi of some following reliable taxi companies:
By public bus:
A few budget travelers try to hit the tunnels by bus, though it's usually not worth the bother as some tours are so cheap that you'd end up saving hardly anything at all. It's the most time-consuming option which takes you 2.5 hours and roughly 25.000 VND to get to Cu Chi Tunnels' area.
First, you catch bus No. 13 (Trong Dong Bus Station) or No. 94 (from Cho Lon / 12 Xuan Dieu) to Cu Chi Bus Station, then get on bus No. 79 to Ben Duoc Tunnel or bus No. 63 to Ben Dinh Tunnel.
Trong Dong Bus Terminal
Address: No.01 Pham Ngu Lao Street, Ben Thanh Ward, District 01, Ho Chi Minh City
Cu Chi Bus Terminal
Address: Quater 08, Cu Chi-Town, Cu Chi District, Ho Chi Minh City
Cho Lon Bus Terminal
Address: No.46 Le Quang Sung, Ward 14, District 06, Ho Chi Minh City
By guided tourist bus:
By far the easiest way of reaching the Cu Chi tunnels complex is to take a guided bus tour with one of the innumerable travel agencies operating around the Pham Ngu Lao area. It's often possible to book such a trip without leaving the comfort of your accommodation – most guesthouses partnered with a particular agency, the extra fee is usually small. Many hotels run their own tours, and the prices are usually a fair bit higher. It's also easy to book Cu Chi tunnels tours online at Viator. The bus tours usually include an English-speaking guide and admission fees to the tunnels, apart from extra cost for lunch. Cu Chi tunnels tours usually leave at 8am, with half-dayers returning at 3pm or so, and full-day trips finishing around 6pm.
By private motorbike/car:
Driving motorbike is not only a cool, flexible way but also an affordable way of traveling in Vietnam. Take it into account that the distance of 70 kilometers is not an easy thing. You have to prepare carefully before starting your trips such as choosing a good and suitable motorbike, filling up your fuel tank, carrying a map, turning on the Google Map and keeping the motorbike shop's contact information if needed. Remember to turn on GPS and check the weather before your trip since the route to Cu Chi district can be difficult for first-time travelers.
By boat:
A boat or canoe will provide a new experience for your Cu Chi Tunnels travel. You can take a speedboat (with the first boat leaving at 7:30 am every day) departing from Tan Cang pier along the Saigon River to Cu Chi in 75 minutes.
What & where to eat at Cu Chi Tunnels
Enjoying local foods at Ben Duoc Restaurant
Tel: (+84) 87-948-8822
Ben Duoc Restaurant is a cluster of houses with thick grass roofs and built from bush materials, which make it always cool. Ben Duoc Restaurant serves a wide range of rural foods such as giang leaf sour soup, fish cooked with sauce, small fish girdle cake, banh xeo, and 7 special dishes made of beef. This restaurant often offers a lot of special promotion for customers traveling in the group. When visiting this restaurant, you will have chances of enjoying the beautiful, peaceful scenery which is a harmony of river and landscape.
Frequently Asked Questions when visiting Cu Chi Tunnels