Places around Cu Chi Tunnels
Ben Duoc Temple
The temple was built in 1993 to commemorate people who contribute and sacrificed for the country against French colonialists and US invading. In the center of the main temple is the statue of President Ho Chi Minh. The martyrs name was engraved on the marble stele, 44520 in total. A 9-story tower flanks the main temple with wall paintings reflecting life and fighting of local people in Cu Chi district. When climbing up the top, you'll have a panoramic view of the Iron Triangle. Please dress appropriately, although temple wear (long trousers etc) may not be conducive after clambering through earthen tunnels.
Cao Dai Temple
The Cao Dai Temple is the religious center for Caodaism faithful in south Vietnam. It's located in Tay Ninh, 90km northwest of Ho Chi Minh City. The sacred temple complex was built between 1933 and 1955. The religion has not been around very long, but is the 3rd largest religion in Vietnam, and mainly prevailed in south Vietnam. Nowadays you can also find Cao Dai temples in the US, Australia and Europe.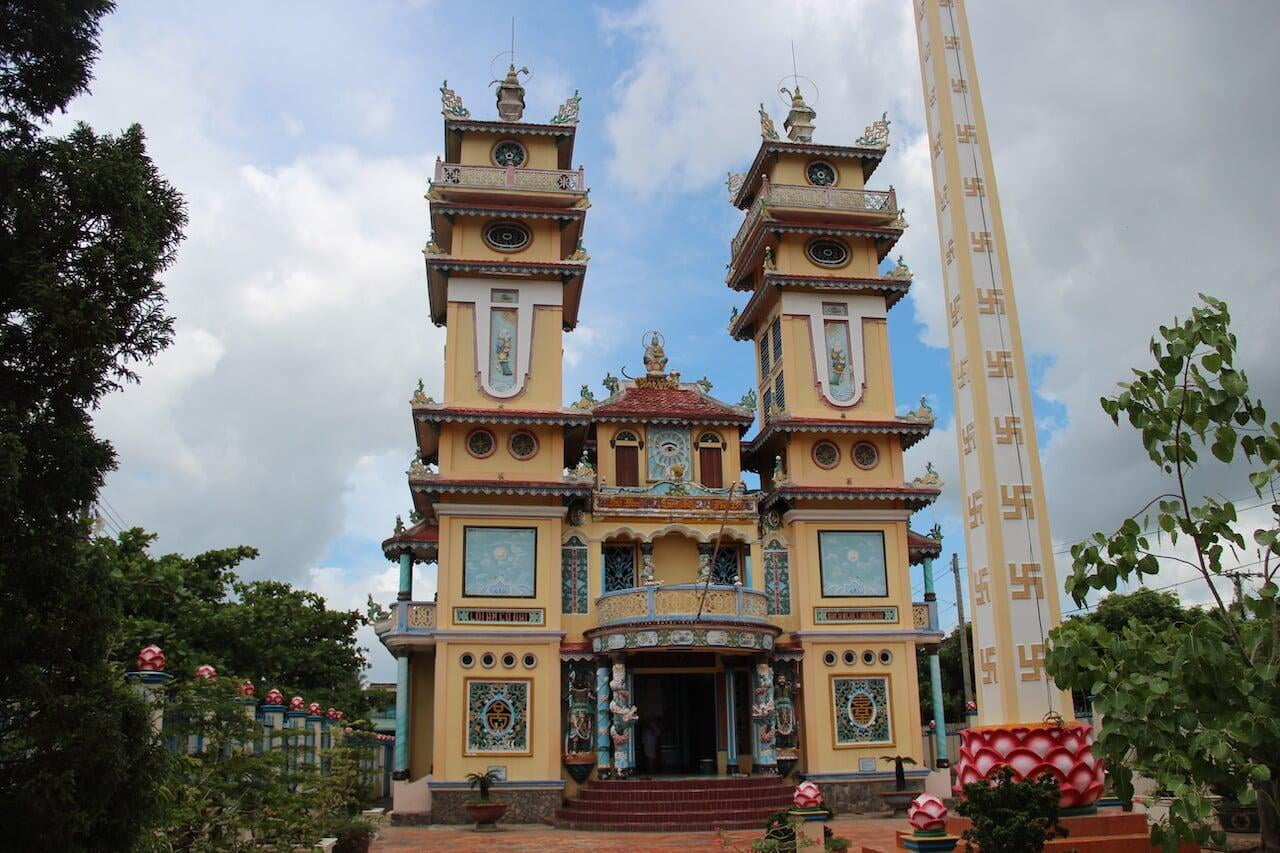 The religion originated in Tay Ninh in 1926. It borrowed elements from Confucianism, Buddhism, Taoism, Christianity and Islam. The symbol of Cao Dai religion is an eye in triangle, like the evil eye found in India, representing the God. During the World War II, a Cao Dai army was even established to fight against Japanese invaders. There's turbulent of the religion development and was not officially legalized until 1985. It's estimated that there're some 3 million follower across the country, mainly in south Vietnam.
The architecture of Cao Dai Temple is unique, a combination of Neo-gothic, Baroque and Oriental design with decorations of dragon wrapped pillars, seven-headed cobras and ceilings of sky blue. Inside, statues of Jesus Christ, Buddha and the Hindu god Brahma stand peacefully side by side.
Attending a Cao Dai prayer is one of the absolute highlight for visitors. Most followers wear pure white robes, while the priests have brightly colored robes reflecting their own spiritual allegiance: yellow for Buddhism, blue for Taoism or red for Confucianism. Both the bishops and cardinals have the Divine Eye which is emblazoned on their headpieces. The ceremony is practiced at fixed times daily: 6am, noon, 6pm and midnight. Before the service you can walk around yourself, during the ceremony you can only stand on the balcony and view everything from above. You are allowed to take pictures, but you must be quiet during the service. In addition, you must dress decently and leave your shoes outside in a specially designated place.
Most travelers visit the Cao Dai temple in combination with a tour to Cu Chi Tunnels. They will leave HCMC in early morning, and visit the Cu Chi Tunnels, and arrive before noon to attend the prayer ceremony.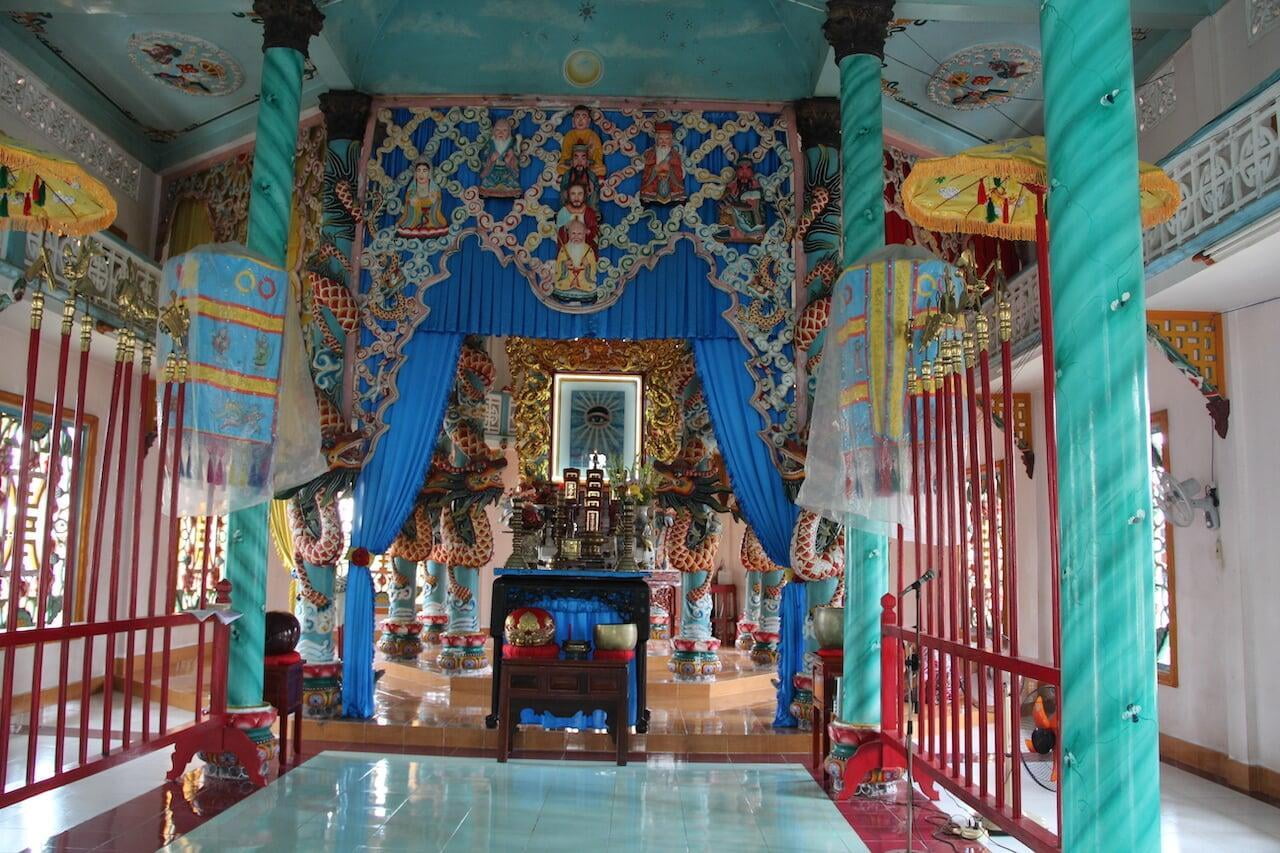 Mekong Delta
The rice bowl of Vietnam, more than half of Vietnam's rice and fish comes from the Mekong delta region, so you can see how vital it is to the Vietnamese economy and diet. It's a water world full of rice fields, boats, houses, fruits, floating markets, villages with rivers, canals, streams as landscape background. This region is home to unique ecosystems and various unique communities.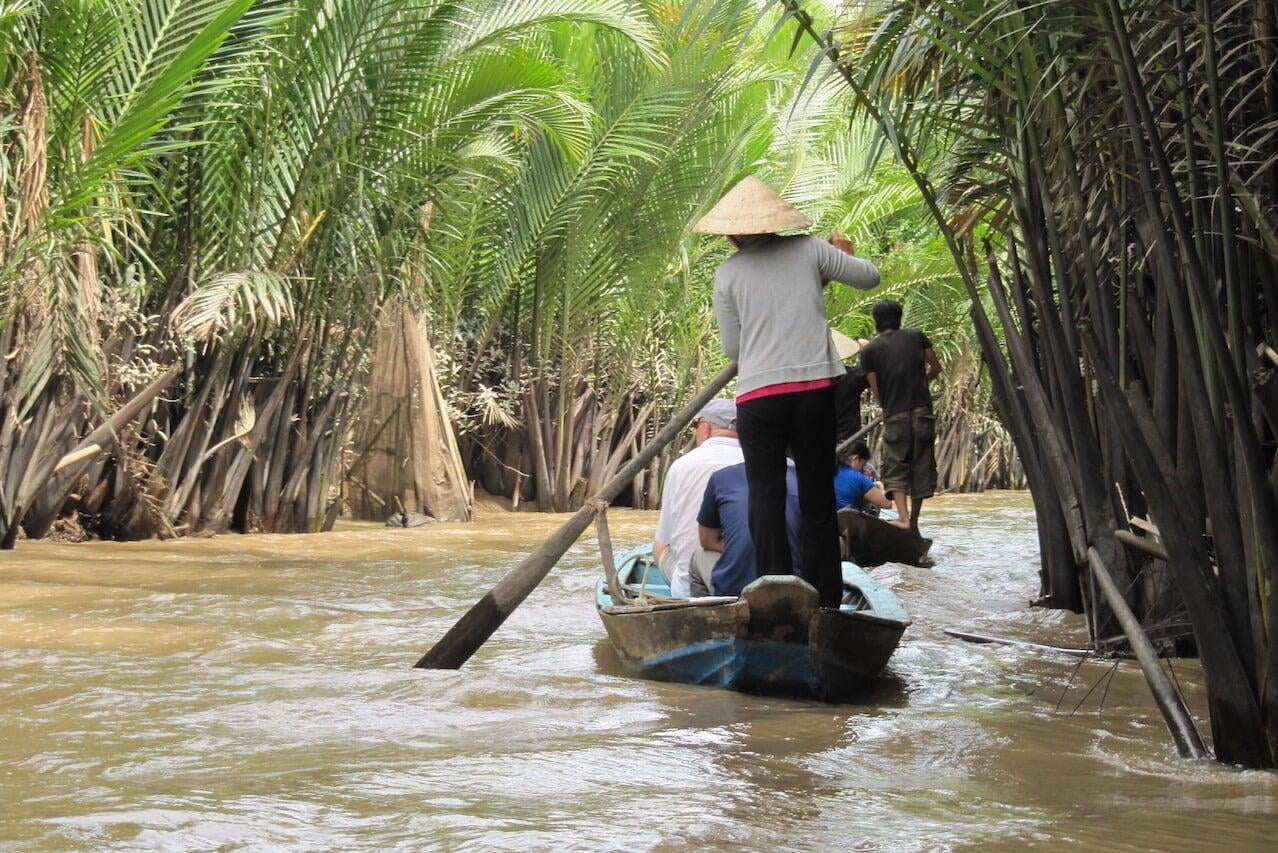 For day-trippers from Ho Chi Minh City, a Mekong Delta experience is combined with Cu Chi Tunnels. The short excursion usually covers a visit to a bee farm, watching a coconut candy processing, enjoy a small folk singing show by locals and a boat/sampan ride in forests. A floating market, however, is not included as the best time to the market is at early morning. If you're keen to the famous Cai Rang floating market, it's suggested to stay overnight at My Tho.